⬅ Return to collection
Antique Accessories : Art : 1800s
This item has been sold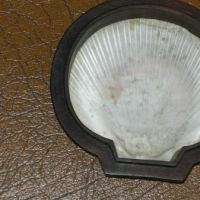 Meiji Period Clam Shell Box Set Into Boxwood with Lacquer Frogs on Top
A stunning Meiji period box, circa last quarter of the 1800's, decorated clam shell with lacquer painted Frogs.
The shell is cut thin and is inset into a boxwood frame used to imitate the form of a clamshell. Each section is cut, as a wood veneer would be cut,very thin. As you can see from the photo, the back shell is damaged and has come out of the wood frame.
The front is in good shape with minor a minor crack on the left side but this has not hurt the integrity of the piece or the lacquer design.
The lacquer work is what stands this piece apart from others. The fine detailed frogs frolicking on the front of the shell is near perfect both in condition and the detail in which the artist painted. Please see the photos for a visual detail.
Size: 3 3/4" x 4" wide x 1 1/4" tall.
If you have any questions or need additional photos, please feel free to contact me.

Detail photos Click to enlarge