⬅ Return to collection
Antique Accessories : Art : 1800s
This item has been sold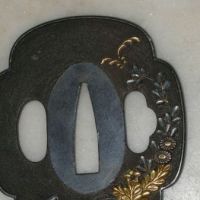 Meiji Period Japanese Sword Fixture, Tsuba Shakudo Mixed Metal Work
The Japanese period known as the Meiji is known for it fine, almost to the point of being flawless, works of art. The period of the mid to late part of the 1800's to the early 1900's produced fine works in the field of woodblocks, porcelains and metal work. Making art for a world market fit into the aesthetics of European art Movements of the early 20th Century that inspired as well as decorated the homes of the wealthy.
This Mixed Metal called Shakudo is a Sword handle guard, called a Tsuba and is an early 1900's work of art. The detail of the potted flower, sickle and chase work is remarkable. The sickle's detail shows the sharp edge of the tool while the silver and gold flower grows from the pot. Both sides have the fine chase work that gives depth to the Tsuba and adds to the beauty.
The Tsuba is approx. 2 1/4" x 2 1/2" and approx. 1/8" thick.
If you have any questions or need additional photos, please contact me.

Detail photos Click to enlarge