⬅ Return to collection
[uncategorized]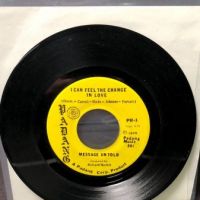 Message Untold  I Can Feel The Change In Love on Padang Records Baltimore MD Soul Single 1979
Message Untold I Can Feel The Change In Love on Padang – PR-1

Message Untold was a Baltimore group with this one and only single, 1979. SIDE 1 has the vocal side and side 2 is the instrumental side and both sides are great soul numbers.
Listen Here:
SIDE 1

SIDE 2

Condition: Vinyl is a low VG+ very low and light surface can be faintly heard as song plays, very low but not effecting the tones and no tracking issues and improves as song plays on. SIDE 2 has light crackle at start and does improve to sometimes faintly heard. Slightly off center but plays well. SIDE 1 end gets a little wobbly but SIDE 2 sounds great. Sleeve is generic white If you have any questions or if you need additional images, please feel free to email me.
Listen to the tracks for your description

Note:
shipping cost is for US only, if you are an over seas buyers please email me your shipping address to get a shipping quote.

Detail photos Click to enlarge