⬅ Return to collection
Snapshots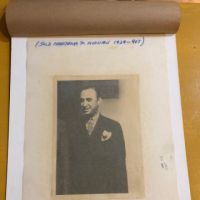 Mezz Mezzrow Photo From the Frank Driggs Collection Circa 1960s Mezz is Marijuana
Mezz Mezzrow: Milton Mesirow (November 9, 1899 – August 5, 1972), better known as Mezz Mezzrow, was an American jazz clarinetist and saxophonist from Chicago, Illinois. He is well known for organizing and financing historic recording sessions with Tommy Ladnier and Sidney Bechet.
His Jazz career with good but he was best know for his drug reference.
"Mezzrow became better known for his drug dealing than his music. In his time, he was so well known in the jazz community for selling marijuana that Mezz became slang for marijuana, a reference used in the Stuff Smith song, "If You're a Viper". He was also known as the Muggles King, the word muggles being slang for marijuana at that time; the title of the 1928 Louis Armstrong recording "Muggles" refers to this. Armstrong was one of his biggest customers."
Stated on the Glassine is Sold Marijuana to Musicians 1929-40's

This Photo is Circa 1935 ( stated on the back of the board) and is dry mounted on board. Stated below the image is that this is from the Frank Driggs Collection.
I have been working on a Jazz Photo collection from a Baltimore Md Jazz Drummer who passed in the 1970's who was active playing drums in the 1950's and later became a Jazz Concert Promoter in the late 196o's. His name was John Brown.
The image appears to be a reprint from the 1960's and as stated from the file of Frank Driggs.

Size: image is appox. 5 x 7 1/8 inches and the board is 12 1/2 x 10 inches
Condition: Near Fine. The image has been dry mounted to board is covered with a Glassine page.

If you have any questions or if you need additional images, please feel free to email me.

Noted:
Overseas buyers please email me for shipping quote, please provide me with a shipping address and postal code.
Detail photos Click to enlarge