⬅ Return to collection
Medical & Oddities : 1900-1940s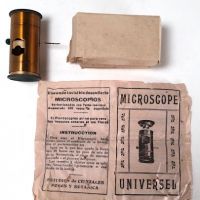 Microscope c. 1900 Florascope Brass French Universel Field Insect and Flower Microscope
c. 1900 Florascope Brass French Field Insect and Flower Microscope
Universel Microscope c. 1900 Florascope Brass French Field Insect and Flower Microscope
Each one is original with the paper wrappers and specimen pin and many come with a small cardboard box.

Univerel Microscope Pocket made for both flowers and insects.
This simple design scopes would be used in the field for a quick identification and examining of specimens.
Also called Florascopes in the Catalogue B. KAHN & SON - New York - Vers 1900

The many versions of these specimen microscopes:

'MICROSCOPE OR FLOROSCOPE' (1886, onward) or
'FLORASCOPE'or
'PAN-AMERICAN MICROSCOPE' (1901-PAN AMERICAN EXPOSITION) or
'COMBINATION MICROSCOPE' (1903)or
'COMBINATION MICROSCOPE OR FLOROSCOPE'(1905) or
'UNIVERSAL MICROSCOPE' (e.g. 1927)or
'MICROSCOPE AND FLOROSCOPE COMBINED' (1929) or
'DR KOCH'S FRENCH MICROSCOPE' or
'20th CENTURY WONDER'

Bio:
"This little combination magnifier may be the most common antique microscope ever available. It also may have the most alternative names! In its most basic form, that shown on this page, it had only a slit on the side to accomodate the pin. A slightly more useful design included a larger opening that could accomodate a small vial for liquid-containing specimens. Later, a swivelling mirror and a horizontal slot for small slides was provided. The original form was offered in French advertisments as early as 1851, and in English ads as early as 1885, but was featured in the Pan American Exposition, a Worlds Fair of 1901. This instrument and its variations continued to be sold through at least most of the second quarter of the twentieth century. Many merchants sold this either via their catalogs, at exhibitions (fairs), or via mail through magazine advertisements. This non-achromatic magnifier of cheap constuction, should not be confused with the superficially similar, but much higher quality simple microscopes of the period…"

Made of brass in France
Circa 1900

Size: 2 inches tall x 1 diam.
Condition: they have never been used and most still have the original instructions and pin stuck through. The brass is tarnished. They are unused but not free more soiling and age, some might need some light cleaning. Includes the small box but is falling apart. Please see the images for details

If you have any questions or if you need more images, please feel free to email me.

Note:
Shipping quoted is for US shipping only.
Overseas buyers please email me for shipping quote, please provide me with a shipping address and postal code.
Detail photos Click to enlarge