⬅ Return to collection
Mid-century
This item has been sold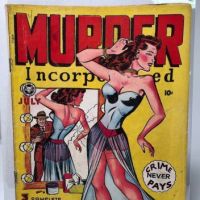 Murder Incorporated No 4 July 1948 Published by Fox Feature Syndicate. First Series from 1948 In Very Good Condition
Murder Incorporated No 4 July 1948 Published by Fox Feature Syndicate. First Series from 1948
**Sames Estate as the other Pre Code Comics listed**
Title: Murder Incorporated
Date: July 1948
Pub by Fox Feature Syndicate
Condition: The cover is amazing with some slight soiling to the yellow, and pulling marks at the staples. Minor wrinkling from age and slight use. Pencil number 4 on the top left. The back is very clean and has pencil on the bottom top and minimal signs of use. The Binding is tight with bright and strong colors and very minimal signs of use. Amazing condition. If you need more image please tell me what areas you need photographed.
"One of the more notorious pre-Code crime comics. Ray Hamilton, a member of the Barrow Gang that included Bonnie & Clyde, accumulates a prison sentence of 362 years by the time he's 21 years old; The public gun-battle that led to the demise of The Brady Gang has become an essential part of Maine folklore, even portrayed in Stephen King's It; The "Flatheads" gang commits the first-ever armored car robbery on March 11, 1927. Especially lurid cover by an unknown artist. Ray Hamilton: The Last of the Desperados; There's Going to Be a Murder; The Gun Crazy Brady Gang; Paul Jawarski and the Notorious Flathead Gang. 32 pages, Full Color."

If you have any questions or need additional information, please feel free to contact me.
Noted:
Over seas buyers please email me for shipping quote, please provide me with a shipping address and postal code.
Detail photos Click to enlarge