⬅ Return to collection
Art : 1900-1940s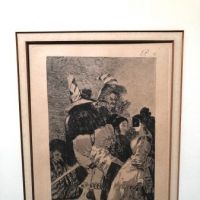 Nadie se Conoce Plate 6 from Los Caprichos Series by Francisco Goya 7th Ed. Etching Aquatint Blue Ink Circa 1903
7th edition Circa 1903
Plate 6, titled Nadie se Conoce (Nobody Knows Himself)
Size:
platemark: 8 9/16 × 5 15/16 in.
sheet: 12 15/16 x 9 1/2 inches
Condition: the Print is hinged on the back of the paper with a old masking tape, left side has darkening toned edges and the bottom edge of the paper has light chipping. The Image is very fine with no issues to the print, some light aging to the paper. Please see the images for more details.
NOTE: the print is frame and matted, I will be shipping the piece without the glass.
The later editions are indicated by the rounded edges and you can see the laid/wire marks of the paper. The etching and aqautint uses a blueish ink.
This edition was published around 1903 after the popular deluxe 6th edition. According to a fine arts site, "this was the first edition printed onto yellowish paper. Blue inks were used for the seventh editions, differing from the previous sepia and black inks."
"Los caprichos (The Caprices) is a set of 80 prints in aquatint and etching created by the Spanish artist Francisco Goya in 1797–1798, and published as an album in 1799." "Goya published Los Caprichos—a series of etchings that depict the social ills of contemporary Spanish culture, in 1799—at the dawn of a new century that would change Spain forever."
"Los caprichos were withdrawn from public sale very shortly after their release in 1799, after only 27 copies of the set had been purchased. In 1803, Goya offered the Caprichos' copper plates and the first edition's unsold sets to King Charles IV in return for a pension for his son.[4] Later in life, Goya wrote that he had felt it prudent to withdraw the prints from circulation due to the Inquisition"
The prints have remained popular due to their occult and superstitious overtones of the imagery , goats, bats and demons.
In this image of the masked carnival figures, men and woman engaging, this masked event gave amnimity for men and woman to shed the restrictive constructs of society. The titles gives this way, "Nobody Knows Himself". This image and scene is a very Dionysus subject, the lean toward the pagan occult overtones of the series. You can see why it was not well received by the clergy and ruling class at the time.
If you have any questions or if you need more images please feel free to contact me.
NOTE:
The price listed is for US. If you are an overseas buyer please email me your shipping address before purchase to get a shipping quote.
Detail photos Click to enlarge