⬅ Return to collection
Art : Mid-century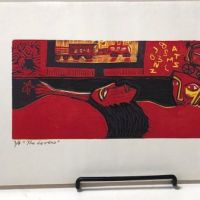 Naul Ojeda Signed and Numbered Color Woodcut The Lovers edition of 3/4 Dated 1976 Uruguay Artist Lived in Washington DC
The Lovers is dated 1976 next to the signature and titled on the left side with edition, 3/4. Bold and rich saturated colors and the skill and technique on this woodcut is great.
The Lovers shows Ojeda at his full potential and master of the woodcut, the multicolored and layered piece shows skill and precision. The red, the dominant color, lays over the yellow giving the depth and a the way the black is laid on last. You can see this on the right side, please see the detail of the stars in the photos I have posted, you can see the black layer over the yellow star in the same image.
Please take a minute and review the images.
Size: 9 x 16 inches
Condition: Very fine with no damage or visible marks. The pencil signature and title are very fine and you can see from the images of the reverse, the ink saturation is strong. Please see the images for more details.
"Naúl Ojeda (1939-2002) who trained at the University of Uruguay, School of Fine Arts in Montevideo, Uruguay. In the early 1970s, political repression in Ojeda's homeland led to his living and creating his art in France, Chile, Mexico, and ultimately the United States. He lived in Washington, DC for almost 30 years before his death there in 2002." (From the Artist Website)
If you have any questions or need additional information, please feel free to contact me.

Note:
Overseas buyers please email me for shipping quote, please provide me with a shipping address and postal code.
Detail photos Click to enlarge