⬅ Return to collection
[uncategorized]
This item has been sold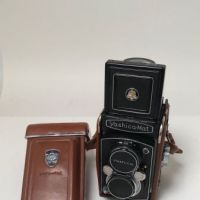 Near Mint 1957 Yashica Mat Copal MXV Original Near Mint Leather Case with Metal Flip up Lens Cover TLR Medium Format
The Yashica Mat Copal MXV 120 Medium Format TLR Camera with Original Leather and near Mint Case.
Serial number of 62189, this almost unused camera was modeled after the German Rolleiflex Twins Lens Reflex Cameras.
F=75mm Lumaxar lens, serial number of 22969. The camera comes with the original screw mount and hinged metal lens cover. The leather case shows only very light if any use. I have not taken the camera out of the case, the case is still very stiff and I do not want to break the stitching or damage this near mint case. The front of the case has the metal Yashica Logo Tag on the front with embossed Yashica Mat.
The camera advances and shutter speed works great at all settings. I have not verified the accuracy of the shutter speed. No marks or damage can be seen on the lens.
The Yashica Mat with Copal MX started in 1957 with serial number of 57xxx to about 59xxx Also in 1957, the Yashica Mat with Copal MXV continued with the serial number of 59xxx to 65xxx. This serial number is 62189, making this a middle of the production for 1957.
According to online sources:
"In 1957, Yashima released the Yashica-Mat, which was it's first attempt at a "premium" model. It borrowed features from the higher end German Rolleiflex such as an auto-cocking shutter, wind lever, and frame counter. Combined with a state of the art (for it's time) Copal MXV shutter, the Yashica-Mat was a pretty nice camera and really helped open the eyes of the rest of the world to Japanese made cameras."
Size: 6 1/4 tall x 3 3/4 wide x 4 1/2 deep.
Condition: appears to be unused or very lightly used. No damage to the camera or the lens that I have seen. Shutter speeds work and the lens adjusts. The leather case is in remarkable condition with very light marks, scuff to the leather on the top left. Please see the images provided for more details.
If you have any questions or if you need more images, please feel free to contact me.
NOTE:
International orders, please email me your shipping address before purchase with your address to get a shipping quote. The shipping price is for US buyers only.
Detail photos Click to enlarge