⬅ Return to collection
1800s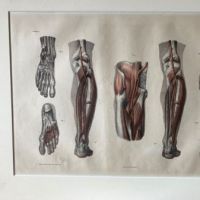 Nicolas Henri Jacob pl. 50 Tome 4 Lithograph by Benard Circulatory System Legs and Feet
Nicolas Henri Jacob (1782-1871)
Tome 4 Pl. 50
The circulatory system of the leg and feet.


lower left " Dessine d'apres nature par N. H. Jacob
"Colorie par Mantois" colored by Mantois

Size: 17 x 12 1/4 inches
Condition: from a book, the page is toned and is hinged with archival hing tape. I took photos in direct light and diffused light, that is why there are two type of photos.

If you have any questions or if you need additional images, please feel free to contact me.

Detail photos Click to enlarge