⬅ Return to collection
Daguerreotype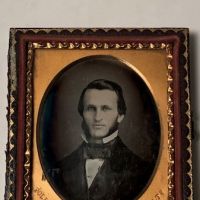 Ninth Plate Daguerreotype by Baltimore Photographer Pollock Circa 1850 Young Man with Large Square Bowtie
Daguerreotype of Young Man with Large Square Bowtie Stamped Pollack Balto Circa 1850
From my previous post about the Baltimore Photographer Pollock:
Daguerreotype by Henry Pollock, prominent Baltimore photographer from 1849-1889. According to resources and directories, Pollock was active starting in 1849: 147 Lexington (1849); 155 Baltimore (1850-1867); 44 Lexington (1868-1886); 9 E. Lexington 1887-1889).
According to ssdagers.com.."Embossed case pad "POLLOCK/ 147 Lexington ST./ BALTIMORE" for earliest Images; mats blind-stamped "POLLOCK BALTo." after move to Baltimore Street location."

The sitter is a youngish man, who had some wealth but due to the size of the image, a ninth plate was a smaller and more affordable size for up and coming people but the the fact the Pollock was such a regional famous and well known photographer, this young man wanted his photograph done right and by a then well known photographer.
His stylish large square bowtie shows his in fashion attire, down to his large sideburns. The hand colored image, his face and white shirt are tinted.
Size: Ninth Plate: 2 x 2.5 inches
Condition: The image has amazing depth and clarity, there is a slight crystallizing to the plate on the right side and small signs of tarnishing to the right and left of the subject. The mat is blind stamped with very clear marks. The glass will need to be cleaned and possible new seals. There is no cover to the case image. Please see images for more details.
If you have any questions or need more images, please feel free to email me.
NOTE:
The price listed is for US. If you are an overseas buyer please email me your shipping address before purchase to get a shipping quote.
Detail photos Click to enlarge