⬅ Return to collection
Daguerreotype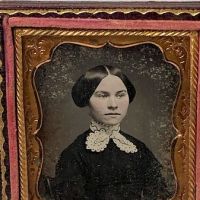 Ninth Plate Daguerreotype Hand Tinted Woman with Large White Lace Collar Rose Inside Velvet
Ninth Plate Daguerreotype Hand Tinted Woman with Large White Lace Collar
Circa 1860
The woman who has one of the best looking collars I have seen. The lace collar is highly detailed and thanks to the daguerrotype process the clarity is amazing. Next is the hair style, her hair is a perfect form and again the details are amazing.
The woman is a young woman and the inside case has a nice red velvet with a rose. Most likely a lovers case of the young woman with a rose for her love.
The case shows a more ornate style and in my experience this indicates that is a late period daguerrotype.
No name on the case or mat, so this is an unknown sitter and an unknown photographer.

Size: Ninth Plate (2" × 2½")
Condition: the outside the case has some wear and bumped edges. Slight fading to the outside of the case. The hinge is showing wear but is intact. The image has tarnishing at the bottom edge of the plate. Some spotting at the edges of the image. Please see the images for more details
If you have any questions or need more images, please feel free to email me.
NOTE:
The price listed is for US. If you are an overseas buyer please email me your shipping address before purchase to get a shipping quote.
Detail photos Click to enlarge