⬅ Return to collection
Ambrotype
This item has been sold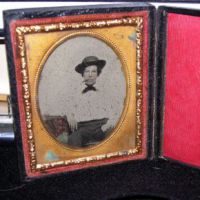 1/9 Plate Size Ambrotype of Young Woman with a Cigar Baltimore MD Photographer Welden's
Baltimore Md had many industries such as early Banjo making, inventing the Linotype machine and had a strong presence in the field of Photography, especially in the early years, Daguerreotypes and Ambrotypes.
This great ninth plate size case photos of a young woman with a cigar in his mouth is circa 1960's, right after the civil war. The back of the image does have a torn photographers card with the name "Welden's Ambrotype & Photography" The shop was located on Baltimore Street opposite Holiday Street. Sadly the number of the street and the photographers full name is not know. I will continue to search and I will add any new information when I can.

Size: Ninth Plate
Condition: Vg, with some dust behind the glass. Image is strong but appears to have started to fade slightly.
Case hing is tight.

If you have any questions or need additional information, please feel free to email me.


Detail photos Click to enlarge