⬅ Return to collection
1900-1940s
This item has been sold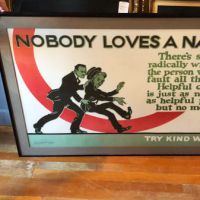 Nobody Loves a Nagger Mather and Company 1923 Motivational Poster
Nobody Loves a Nagger Mather and Company 1923 Motivational Poster

"Mather & Company, Chicago printers who capitalized on the 1920s-era fascination with enhancing efficiency in the workplace, produced this colorful motivational art to be hung in factories and offices."

"…..Seth Seiders Syndicate, which owned Mather & Company, built on the success of the government's poster campaign during WWI. The Syndicate seized upon the idea of asking businesses to subscribe to a poster series, selling clients on the concept of workplace artwork featuring maxims that would represent the latest in management theory.

Unlike workplace safety posters—also a recent invention in the early twentieth century—Mather's art dictated rules of interpersonal workplace behavior. The posters preached self-discipline, loyalty, honesty, and diligence, and promised that workers who followed these guidelines would be promoted above their peers."


Size: 46 1/2 x 30 inches Framed
28" X 41.5" Approx Image Size
Condition: Please see attached image for details.

If you have any questions or if you need additional images, please feel free to contact me.

Note:
Shipping for this item will be the poster removed from the frame, rolled and secured placed in a plastic protective bag and shipped in a secure mailing tube.
Detail photos Click to enlarge