⬅ Return to collection
Modern
This item has been sold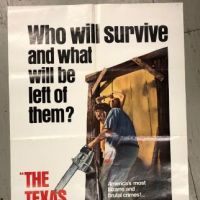 NOT A REISSUE Original Texas Chainsaw Massacre Movie Poster 1974 with Union Mark and Registration Marks
1974 gave us the premiere and what would be the defining direction of Horror, The Texas Chainsaw Massacre. Shot with hand held cameras, you felt you were being chased by Leatherface. Leatherface changed the standard of horror from monsters to the serial killer of hidden out of the way areas.
Needless to say this film and the stark poster was decisive, the image of the woman screaming as the chainsaw is cut out and highlighted.
Dated 1974 and includes the offset registrations marks on all corners and the Union mark, this is not a reproduction. As the Website for Texas Chainsaw Massacre states…"Since Bryanston Pictures was the first distributor of the Texas Chainsaw Massacre, only the original posters will say "Bryanston" at the bottom of the poster."
The Site also states.. "Back then, posters were folded and shipped along with the film cans to theaters and then the theaters would unfold the posters, slap glue behind them and then paste them to the wall on top of other posters from previous movies. So only an original Bryanston poster will also have creases to show that it was folded 3 times over, thus showing 8 sections of creases in the poster. If you find a "Bryanston" poster with no creases, it's a reprint and not an original."
Size: One Sheet 27 x 41 inches
Condition: Fine with original folds. There are small pinholes in all four corners. The lower right corner was white out over a Number "8", as seen from the back of the poster. The folds are not torn but show some signs of folding and unfolding over the years. Very light soiling can be seen but no tears or damage. Please see the images for more details.
If you have any questions or need additional information, please feel free to contact me.
Note:
Over seas buyers please email me for shipping quote, please provide me with a shipping address and postal code.
Detail photos Click to enlarge