⬅ Return to collection
1st Edition : Limited : Rare & Unique : 1800s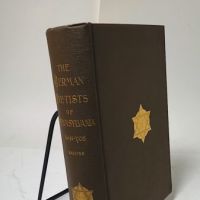 Numbered 282/500 of The German Pietists of provincial Pennsylvania 1694-1708 by Julius Friedrich Sachse Private Printing 1895 Hardback
The German Pietists of provincial Pennsylvania 1694-1708
By: Sachse, Julius Friedrich, 1842-1919
Life-member Historical Society of Pennsylvania, American Philosophical Society, Penn- German Society, etc.
504 pages
Published by: Philadelphia : Printed for the author
Year: 1895
Edition is limited to 500 this being hand numbered 282 with facsimile signature of the author.
Hardback edition with brown end boards with gold letter and gold relieved symbol on the front. Gold edge pages on the top part of the book.
Bio:
"American scholar of the history of Pennsylvania, particularly of the Ephrata Cloister and sectarian Pennsylvania German groups, as well as of American Freemasonry, and photographer. He was born in Philadelphia and graduated from Muhlenberg College. He was editor of the American Journal of Photography from 1890 to 1897. Although raised a Lutheran, Sachse's children were baptized in the German Reformed Church, and he attended Episcopal churches in Philadelphia from about 1895 until his death."
The book is illustrated with facsimile of ads and also images of Occult and Rosicrucian, Freemason and other religious orders symbols and figures.
Book Description:
(From Penn State).."The German Pietists of Provincial Pennsylvania narrates the history of the early Germans of various sects and congregations who settled in Pennsylvania starting at the end of the seventeenth century, with a particular focus on a group of German Pietist mystics who emigrated to America in 1694 to pursue the freedom to practice their religion. The book details Pietism's origins in Europe, Pietists' beliefs and practices, and the Pietists' relationships with other religious groups, like the Quakers, Lutherans, and Jansenites. The book is a product of meticulous archival work and research, and it includes numerous references to and facsimile pages from rare source material. Sachse also provides a comprehensive look at the activities of well-known figures including Johannes Kelpius, Daniel Falkner, Johann Jacob Zimmerman, and Benjamin Furly."
Condition: Very fine with light wear to the binding, end boards show some light signs of use. Light shelf rubbing to the top and bottom of the spine edge, the rest of the front and back are in excellent condition. No marks inside the book and over all in excellent condition. Please see the images for more details.

If you have any questions or need additional information, please feel free to contact me.

Noted:
Overseas buyers please email me for shipping quote, please provide me with a shipping address and postal code.
Detail photos Click to enlarge