⬅ Return to collection
Historical Memorabilia : Military Memorabilia & Art : 1800s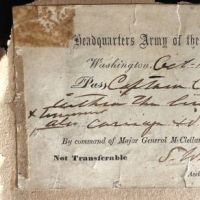 October 14 1861 Signed Seth Williams from Headquarters Army of The Potomac Civil War Pass for a Captain
October 14 1861 Signed Seth Williams from Headquarters Army of The Potomac Civil War Pass for a Captain.
The civil war was started, by the day the pass was written., Troops were stationed in Washington DC, on the Virginia boarder but the official start of the war was April 12 1861.
Battles were fought and lost in a few short months in 1861, the north with superior numbers lost as many battles to the Confederate Army.
McClellan was the commanding general for what would become the Army of the Potomac and lost to Lee, Lincoln would relieve McClellan of the Commander of the Union Army.
In this pass, signed by Seth Williams, the Assistant Adjunct General, granted a pass dated October 14th 1861 to a Captain Cummings. It appears to give a pass for a day to carry the wounded**
One page from this collection, included in the sale is from 1899 and shows a F. A. Cummings who when searching "Captain Cummings" is a younger version of F.A. Cummings.
I do not have anymore family history of this man or his posting during the Civil War.
If you have any questions or if you need additional images, please feel free to contact me.
NOTE:
The shipping price is for US buyers only, if you are an international order, please contact me before purchase with your mailing address to get a shipping quote.
Detail photos Click to enlarge