⬅ Return to collection
Antique Furniture : Medical & Oddities : 1800s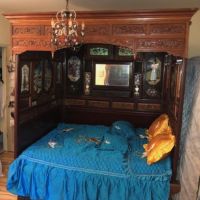 One of the Best 19th Century Opium Bed with Sliding Panels of Reversed Glass Paintings Heavily Carved Rarely Seen In this Condition
Attention and Act Now!!!
One of the best 19th Century Opium Beds I have seen in many years. Most of these have not survived but this one has and I am glad it has. The doors and sliding panels are reversed painted and with foil, the carved lattice of the interior and the outside heavy carved feet and amazing detailed Poppy plant canopy is a show stopper.
If I could have kept this, I would have!! Remarkable piece and very study and as I said, still in remarkable condition.
No damage to the painted doors or panels, the glass and paintings are in very good condition. Some parts of the applied lattice have replaced or altered, the finials on the front have been replaced. Please see the pictures. Some wear to the bed's finish and some of the many drawers have wear to the glides but not missing any pieces and the overall pieces are intact.
To describe every nuance of this bed will take a long time, so please take the time to view the pictures and please ask questions, I will be happy to fill you in on what you see and what you have missed.
Some highlights of of the piece:
1. the heavy carved dragon feet on the front of the bed
2. the sliding panels on either side of the bed, this would allow you access to the outside to hand you your needs.
3. the back of the bed has many drawers and cabinets, for your clothes and of course your drawer for your personal items and your tools of the trade
4. the top of the canopy is carved with care and shows the Poppy Plants in the center of each piece.
5. the back of the bed has a small trap door where you would hide what you may need, away from sight
6.the top of the bed, inside is heavily carved with lattice and panels giving you a point to stare off and just dream and float away
7.YOU WONT SEE ANOTHER ONE WITH SUCH CHARACTER AND CLASS AS THIS ONE
Size: 77 deep x 82 wide x 92 high Total size
6 x 5 Bed
Condition: some wear but constant for age. Has some slight marks and some repaired pieces but in over all remarkable condition. One photo I showed that there is a slight bow to the back left side panel.
If you have any questions or need more images please feel free to contact me.
Shipping:
Note, this item will need to be picked up in Baltimore MD or special delivery will need to be arranged by the buyer.
Detail photos Click to enlarge