⬅ Return to collection
Antique Accessories : Art : 1800s
This item has been sold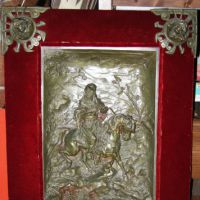 Orientalist Plaque Signed Hardy Arab on Horse with North African Moors on Corners Austrian Bronze
** New Price**

Oak framed Bronze Orientalist plaque of Arab on Horse with applied steel decorative corners.

"Gilded dore bronze wall plaques features Arab motif of men riding on a horse with jezail rifles in hand and a floral landscape backdrop. Framed with red Velvet over original wood frame, each corners are lined with gilded bronze Arab figures crossed by Arab scimitars. Signed "Hardy" in the landscape in the bronze."
Please see images for details.


CIRCA: Austrian
ORIGIN: 19th Ct.

Not a lot of information on the artist "Hardy", most likely done for the export market. Vienna, made a lot of these cold pressed bronzes in the late 1800's to early 1900's. This piece is not marked with a foundry but still retains the quality of Vienna Bronzes.


The wood frame has been covered in a red Velvet.
The steel decorative corners are in fine condition.
The bronze is in fine condition, no breaks or cracks. Only thing that appears to have been added are the copper reins.



Signed Bronze plaque, Hardy
Signed in the rock, please see images for details.

Size: H: 24.5" L:19" W: 3
Condition: Fine with slight wear to the patina and the wood frame has been covered.

Due to the size and weight of this item, additional shipping will be needed or for P/U.
Please email your shipping address before purchase to see if this item can be shipped to you.


Detail photos Click to enlarge