⬅ Return to collection
Mid-century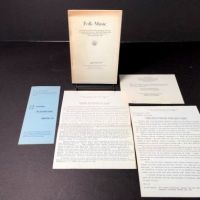 Original 1964 Issued Folk Music: A Catalog of Folk Songs, Ballads, etc Edited by Rae Korson for the Library of Congress Music Division
A complete catalog of Folk, Ballads and other Ethnographic records for sale from the Library of Congress. An amazing resource for the Folk and Record collector.
Folk Music: A Catalog of Folk Songs, Ballads, Dances, Instrumentals Pieces, and Folk Tales of The United States and Latin America on Phonograph Records edited by Rae Korson
Published by Library of Congress; Music Division-Recording Laboratory Reference Department, 1964
The staple bound book is 4 pamphlets stapled. An amazing resource published by the Library of Congress in 1964 giving catalog numbers and tracks and credits and a price to order the record from the Library of Congress.
With 4 inserts
1. Railroad Songs and Ballads ad press release for New Lp
2. Library of Congress post from 1965 stating the repeal of exercise tax on records
3. statement for Coal Miners' songs will be for sale by Library of Congress and gives a history of the release. The title of the record was "Songs and Ballads of the Bituminous Miners
4. Invite and application for ARSC; Association for Recorded Sound Collections inc.

Condition: Very fine with toning on the top front cover only of the catalog. The staples are tight and secure and the catalog is intact and well preserved and appears to have not been used, just storage marks. Please see the images for more details
If you have any questions or if you need additional images, please feel free to contact me.

Note:
Over seas buyers please contact me before purchase with postal code to get a shipping quote. Shipping cost posted is for Domestic shipping only.
Detail photos Click to enlarge