⬅ Return to collection
[uncategorized]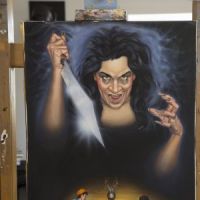 Original Art Deadly Daphne's Revenge Troma 1987 From the Archives of Tricia Zimic
Tricia Zimic, an artist who created many of the Troma movie art we all grew up seeing on the shelf at Errol's and our local video rental stores. As the 80's unfolded, the B movie and direct to video movies promoted their movies with the cover art. Many of these movies had small grind house releases but their draw were the video covers.
Troma Pictures were one of the top companies when you think of this era, a few titles stand out like Toxic Avenger and Surf Nazis Must Die, those two will forever be apart of of visual psyche.
The covers were over the top and of course had something to draw you in. Zimic's art were fine details, explicit scenes, a little sexy and 100% original.
Many of these artist were fly by night, but not the case with Troma, Tricia Zimic should be the name we know when it comes to 80's and 90's Horror and Shock movie images.
Tricia Zimic Artist bio:
"Tricia Zimic has been creating professional illustrations since 1984. She attended Parson School of Design for illustration where she studied with such masters as Maurice Sendak and Murray Tinkelman.
Tricia has worked as a young adult/children's illustrator for Simon and Schuster, Tor/Macmillan, Viking Penguin, Scholastic Books, Berkley Books, Avon, Random House/Bantam Books, Dutton Books, Publications International Ltd., Troma Film Productions and Disney Films"
Sturgis Antiques is proud to partner with the artist and sell her amazing archive of the original art she did for Troma and other Horror movies.
Each piece will have a signed letter stating that the piece is from her personal archive.
It is with great honor that I present you with
Deadly Daphne's Revenge, Troma 1987
Original art on board, airbrush, and oil on board.
Size: 20" x 30"
Please contact me if you have any questions or need additional images.