⬅ Return to collection
Punk : 1970-Contemporary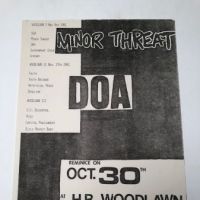 Original DC Hardcore Flyer Minor Threat and DOA at H.B. Woodlawn October 30th 1981 Dischord Records
Rare and Early Minor Threat and DOA October 30th 1981at H.B. Woodlawn in Arlington VA Punk Flyer
Bands: Minor Threat and DOA ( Canadian Band )
Date: October 30th 1981
Venue: H.B. Woodlawn in Arlington Va. 2100 North Vacation Lane
What a great and early DC hardcore flyer, not only for Minor Threat but also for the great DOA who's constant touring was a part of the early punk scene in the US. They played with almost every major band from East Coast to the West Coast. A staggering amount of shows under their belt. This flyer is also special for the other announcement to shows, on the left side are up coming shows. May 9th SOA and Minor Threat with GI and Scream. November 13th with Faith and Youth Brigade and Artificial Peace. The third show has no date but what a line up, the amazing SSD and Void with Capital Punishment and Black Market Baby.
Size: 8 1/2 x 11 inches
Condition: it is perfect and is an original flyer. Please see the images for more details.
If you have any questions or if you need more images please feel free to contact me.
NOTE:
The price listed is for US. If you are an overseas buyer please email me your shipping address before purchase to get a shipping quote.
Detail photos Click to enlarge