⬅ Return to collection
Art : 1800s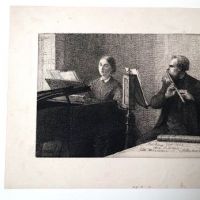 Original Etching by Henri Fantin-Latour Etching Titled Un morceau de Schumann from 1864 Watermarked AQUA FORTISTES
Henri Fantin-Latour Etching Titled Un morceau de Schumann from 1864

Bio:
"Henri Fantin-Latour (14 January 1836 – 25 August 1904) was a French painter and lithographer best known for his flower paintings and group portraits of Parisian artists and writers.
He was born Ignace Henri Jean Théodore Fantin-Latour in Grenoble, Isère. As a youth, he received drawing lessons from his father, who was an artist. In 1850 he entered the Ecole de Dessin, where he studied with Lecoq de Boisbaudran. After studying at the École des Beaux-Arts in Paris from 1854, he devoted much time to copying the works of the old masters in the Musée du Louvre."

Un morceau de Schumann (A Piece by Schumann) from 1864 and was published by Cadart & Luquet in Paris.
Signed, dated, and identified within the plate, publisher's dry stamp l.c. Etching on heavy laid paper with "AQUA FORTISTES" watermark on left side edge.

Note on image:
"depicts a duet between artist Edwin Edwards and his wife, Elizabeth Ruth Escombe Edwards. Fantin-Latour stayed with the couple at least twice while they lived in Sunbury-on-Thames."

Size: Image 10 7/8" x 7 1/4"
Paper 14 1/4" x 10 1/4"

Condition: very fine with light marks on the back of paper. Lower center margin has pencil notations, not effecting the image and is non in the plate area. Very light toning to the right bottom. Please see the images for more details.
Note:
shipping cost is for US only, if you are an over seas buyers please email me your shipping address to get a shipping quote.
Detail photos Click to enlarge