⬅ Return to collection
Rock : 1970-Contemporary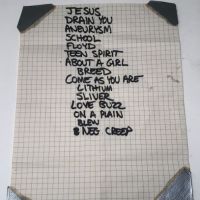 Original Hand Written Set List by Dave Grohl Nirvana October 7th 1991 New Daisy Theatre in Memphis Tenn.
My Client got this piece from the venue, from the night it happened. He was lucky enough to have know about the band prior to the Nevermind lp release, he was into other Subpop bands including Nirvana's previous lp Bleach.
At the time, my client was living in Mississippi and they drove to the show, having gotten the tickets before the release of Nevermind and not expecting the shear explosion the band would cause in the music scene and business.
The show was October 7, 1991 at the Omni New Daisy Theatre in Memphis Tenn. Nevermind was released September 24th 1991 and in those few days the record was canonized and resonated with all who heard it. The venue was small, being booked prior to the release and not knowing what the record would do, the venue was about a 200 person capacity. Yes he was lucking, considering days later in Dallas, October 19th 1991, that show was a madhouse and was a sign post of how quickly and big the band would be. Twelve days before, 200 capacity to over a thousand.
Enough of a background on a band you already know. My client got the set list at the show and got it after the show was over. He said that "I went up to Kurt after the show as he was sitting on the edge of the stage". My client booked bands and offered to put on a show in Hattiesburg Mississippi for the band, he was attending The Univeristy of S. Mississippi at the time. He asked for the set list and Kurt handed it over.

The Set list in the hand writing of Dave Grohl. There are set lists that have sold and quickly this is identified as the hand writing of Dave Grohl, the "H" into the "I" in Lithium, the "B", the way that Dave does his "J", the long top line and the little hook on the "J". The edge of the paper has Duct Tape, it was taped to a monitor.
Size: standard size page of graph paper.
Condition: there is some bleeding to the edges from the age of the Duct Tape. The page has been folded by my client and has been in his ownership since the day he got the set list from the show.
If you have any questions of need more images, please feel free to contact me.
NOTE:
The shipping price is for US buyers only, if you are an over seas buyer please email me your shipping address before purchasing to get a shipping quote.
The shipping price is for Registered Priority mail with insurance of 11,000, the item will need to be signed for due to the value.
Detail photos Click to enlarge