⬅ Return to collection
Art : 1800s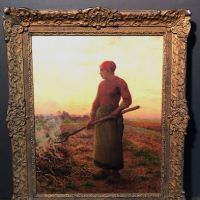 Original Oil on Canvas Circa 1880's Aime Perret French Barbizon School Peasant In Field
Aimé Perret (French 1847-1927) Oil on Canvas of Peasant Woman with Pitch Fork c. 1880.
Aimé Perret (French 1847-1927) Oil on Canvas of Peasant Woman with Pitch Fork c. 1880.
Signed Aime Perret (lr)
Oil on Linen canvas
Titled: on label on back of the stretcher " Coming From Work"
Very similar to "Peasant Woman", c. 1880; oil/canvas, 24" x 20" that sold in 2007.
"Aime Perret was a pupil of Joseph Benoit Guichard, Antoine Vollon and Puvis de Chavanne at the Beaux-Arts in Lyon. He exhibited in Lyon from 1867, repeatedly showing his works at the Paris Salon from 1869 onwards. Perret was one of the founders of the Société Nationale des Beaux-Arts. His paintings are held by many French museums, and even influenced Vincent van Gogh."
Subject: The theme of this painting is similar to other Perret oils, circa 1880's, in museums and catalogs. These paintings show a series, mostly peasant figures at sunset or early dusk working in the fields. The concept of this scene was a commentary of the industrial revolution which correspond with the Barbazone school of painting, "The Barbizon school was active roughly from 1830 through 1870. It takes its name from the village of Barbizon, France, near the Forest of Fontainebleau, where many of the artists gathered. Some of the most prominent features of this school are its tonal qualities, color, loose brushwork, and softness of form." This region and style was part of a greater philosophical movement in art, Romanticism which placed the high regard to the individual, struggles and balance with life and at the same time showing the past. Almost a looking glass reflection of the present reflected back to the past. In a way, a longing for a simpler and generalized a romantic view of the past.
Size: canvas is 13 1/4 x 16 1/4 inches
frame is 20 1/2 x 17 1/2 inches
Condition: Fine with no repairs or tears. Please see the images provided for more details. The painting has not been conserved or altered. Some decay to the varnish and recommend conservation.
(Sturgis Antiques uses a professional museum conservator and if you would like to have the piece cleaned and conserved, please email me)
If you have any questions or if you need additional images, please feel free to contact me.
NOTE:
All shipping amounts are for Domestic shipping, if you are an over seas buyer please contact me before purchase to get a shipping quote you. Please include postal code, and if you require any special services on shipping.

Detail photos Click to enlarge