⬅ Return to collection
Art : Culture : Mid-century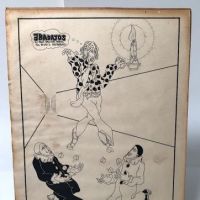 Original Pen and Ink by Ed Badajos 1969 Sawyer Press California Artist Underground Comix Artist Filipino Food
Ed Badajos
Another piece from this amazing collection and archive. The estate was personal personal friends with the artist, as well as other notable underground comix and figures of the late 1960's LA scene.
This piece unlike the others I have posted is directly linked to the publishing company, Sawyer Press was a working name for a company that syndicated art for artist, like Ed Badajos and Ron Cobb, both figures doing amazing and political satire.
Ed Badajos, made famous by his publication Filipino Food comix was an amazing talent. Like other piece I have for sale, this one is one of skill and precision. Only a tiny pencil mark can be seen on the lower right, just below the boarder. Looking closely you dont see his pencil lines but you can make out his pen mark and the applied ink to the rich black areas. An incredible skill and precise artist that not many people can do.
The pice has the thought bubble and advertising Sawyer Press with a date of 1969. The late night hippie walking on the balls of the light and dark juggling harlequins on skates. Yes a lot of metaphor and imagery going on but the humor of Ed Badajos is undeniable.
Please see my other post of Ed Badajos on the titles below:
Large Original Ink Drawing Samurai by Ed Badajos
Two Original Ink Drawings by Ed Badajos Circa 1969
Size: 8 1/2 x 11 inches
Condition: the page is aged and has a pin hole on the top and bottom edge margin. Like toning on the edges and a very light wrinkle can be seen. The back has water stains to the paper but does not come through to the front. Like soiling marks on the front but not effecting the image of the art. Please see the images for details.
If you have any questions or if you need additional images, please feel free to email me.

Note:
shipping cost is for US only, if you are an over seas buyers please email me your shipping address to get a shipping quote.
Detail photos Click to enlarge