⬅ Return to collection
Punk : 1970-Contemporary
This item has been sold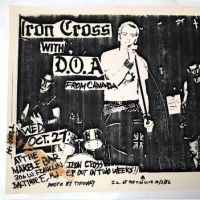 Original Punk Flyer Iron Cross and DOA Wed October 27 1982 Marble Bar Baltimore MD Punk Flyer
Iron Cross and DOA Wed October 27 1982 Marble Bar Baltimore MD Punk Flyer
Bands: Iron Cross and DOA (Canadian Band)
Date: Wed. October 27 1982
Location: Marble Bar, Baltimore MD.
The Marble Bar was an early Baltimore Music Venue, very close the famous Jules's Loft. The Marble Bar was located in the basement of an old Hotel and had many shows from the 1970's to the mid 1980's. A lot of early Punk and Proto Punk outfits played there, Iggy, Pere Ubu, Dead Kennedys, Gang of Four and countless other bands. The Loft started to take over the hardcore shows and the Marble Bar slowly faded. The bar got it's name from the amazing large white Marble Bar.
Size: 8 1/2 x 11 inches
Condition: Near perfect and in almost perfect condition, there is a piece of scotch tape on the bottom right side and the bleed through goes to the back of the paper. Please see the images for more details
If you have any questions or if you need more images please feel free to contact me.
NOTE:
The price listed is for US. If you are an overseas buyer please email me your shipping address before purchase to get a shipping quote.
Detail photos Click to enlarge