⬅ Return to collection
Punk : 1970-Contemporary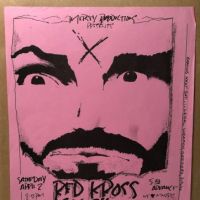 Original Punk Flyer Red Kross Sin 34 and Invisible Chain Saturday April 2 1982 Madison Square Gardens Phoenix Arizona
Red Kross Sin 34 Invisible Chain Saturday April 2 1983 Charles Mason Flyer Madison Square Gardens Phoenix Arizona
Bands: Red Kross (Redd Kross) Sin 34 and Invisible Chain
Date: Saturday April 2 1983
Location: Madison Square Gardens Phoenix Arizona 3750 Van Buren Street
The flyer used the image taken from a variation of the Charles Mason Record for the flyer. Printed on a light colored pink paper.
The venue Madison Square Gardens in Phoenix Arizona had amazing run of shows,… "boxing arena on 7Ave and Van Buren Street. When Tony Victor, owner of Placebo Records, the Valley's sole, period punk label, started booking shows in '81, he booked them at another old wrestling dive." According to a person's history… "Bands played in the wrestling ring at the building's center, setting their amps and drums on the padded floor between rubberized ropes. The stage wobbled during performances, adding visible bounce to the already agro musicians' antics. Scratched wooden bleachers lined walls decorated with black and white publicity photos of small-time, largely deceased wrestlers in period regalia. A chain link fence enclosed the stage in order to protect fans from flying wrestlers; a previous owner installed it after a wrestler landed on someone in the front row. Instead of protection, the fence provided the perfect monkey-bars for punks to climb during shows."
Size: 8 1/2 x 11 inches
Condition: Near perfect and in almost perfect condition, there is a small top right corner fold. Stored flat and preserved. Please see the images for more details
If you have any questions or if you need more images please feel free to contact me.
NOTE:
The price listed is for US. If you are an overseas buyer please email me your shipping address before purchase to get a shipping quote.
Detail photos Click to enlarge