⬅ Return to collection
Glass : Medical & Oddities : 1800s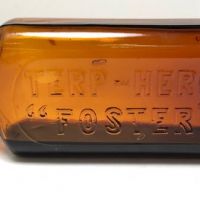 Original Quack Medicine Bottle Foster's Terp Heroin Patent Medicine Bottle Circa 1890's
Terp Heroin Patent Medicine By Foster's Quack Medicine Bottle
The Age of Quack Medicine, Snake Oil Salesmen and Quick Fix, produced many "cure all", but the ones with narcotic ingredients were the ones that really gave that time period its mark. Most of the quack medicine were herb based and alcohol but the ones with Cocaine and Morphine, Heroin and Cannabis pushed the regulation of medicine's in the early 1900's and this one was one that cured you but also gave you another problem, an addiction.
Dr. Foster's Terp Heroin was made up of 28% alcohol 1/3 gram of Heroin in each bottle and was used primarily as a cough suppressant and breathing aid.
Year: Circa 1890
The bottle is a two mold bottle and has the raised lettering on the front.
This very collectable patent medicine bottle is very good condition, the cork is not original and was used to keep the liquid in the bottle from leaking. I will not be selling or shipping the bottle with any liquid in it. If you want pick up, please email me for pick up before purchase.
Size:
Condition: Near perfect, not chipped or cracks or damaged. Please see the image for more details.
If you have any questions or if you need more images please feel free to contact me.
NOTE:
The price listed is for US. If you are an overseas buyer please email me your shipping address before purchase to get a shipping quote.
Detail photos Click to enlarge