⬅ Return to collection
Mid-century
This item has been sold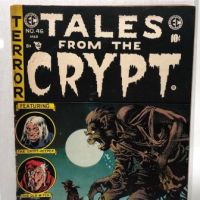 Original Tales From the Crypt No 46 March 1955 Published by EC Comics Final Issue of Series Jack Davis Cover
**Sames Estate as the other Pre Code Comics listed**
Title: Tales From the Crypt No. 46
Date: March 1955
Published by EC Comics
"Final issue of the series. Cover by Jack Davis. "Upon Reflection," script by Carl Wessler, art by Jack Davis; The mayor of a small town vows revenge upon a werewolf that kills his wife. "Blind Alleys," script by Al Feldstein, art by George Evans; The blind victims of an unscrupulous and cruel director lock him and his dog up for several days without food and then release them into a maze with razor blades embedded into the walls. "Gone To Seed" text story. "Success Story," script by Carl Wessler, art by Joe Orlando; A woman and her parents move in with a man they nag constantly to get ahead in the world because he can't afford their demands for gadgets. "Tatter Up!", script by Carl Wessler, art by Graham Ingels; A man is murdered by a creature made out of old rags in retaliation for killing the woman who was kind to the rag creature. 36 pgs"
Condition: Cover is Very fine with bold and strong colors. Light soiling on the top left edge. Old pencil and erased marks on the letter "C". A slight water drop mark on the center, can feel a small wrinkle. Some light pulling at the staples with light tearing. Back is Very fine with only slight and very light soiling on the right spine edge. Binding is tight with first page showing pulling at the staples, please see pics for details. Binding is tight with very fine crips and very clean pages. Color and tone is remarkable with very clear inking and printing
If you have any questions or need additional information, please feel free to contact me.
Note:
Over seas buyers please email me for shipping quote, please provide me with a shipping address and postal code.
Detail photos Click to enlarge