⬅ Return to collection
Rare & Unique : Modern
This item has been sold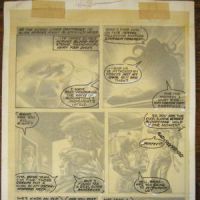 Original Art by John Buscema and Rudy Nebres Rampaging Hulk Vol 1 Number 1 Jan 1977 Marvel Comics
*New Price* as of 11/2/14


Another fantastic piece by John Buscema, Rampaging Hulk for Marvel Comics
Dated on the back 1976 for the the January 1977 issue, Vol. 1 Number 1 page 54.
This page has the Ulysses Bloodstone, who was the immortal Monster Hunter in Marvel Comics.
Art by by John Buscema, Penciler and inker by Rudy Nebres, both names are on the back.
This page has an over lay sheet for dialogue.

Back has Stamp by Marvel with dates and details of artist and inker, please see images for details.


Condition: minor soiling lower left and slight yellowing to the edges. Overlay sheet is in fine condition.
Size: 11 1/2" x 17 1/2"

If you have any questions or need any additional images, please feel free to contact me.

Detail photos Click to enlarge