⬅ Return to collection
Snapshots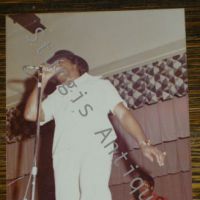 Original Color Photograph of James Brown Live 3 1/2 x 5 Fred Wesley
As some know I have been selling Press Photos of Globe Poster, the historic poster company who for over 80 years did letter press and silkscreen show posters. In their years, they did 1000's of known and lesser known Soul, Funk, R&B, Rock and Gospel acts and their archive of this American art movement has become legendary.
In the archive existed press photos, given to them by the artist, managers and labels to make printing plates. This archive, which I have been selling for them for 4 years is a once and lifetime collection for collectors and archivist from around the world.
Since Sturgis Antiques has done hundred of hours of work to help to promote, raise money and also sell this Treasure Trove of images, posters and pressing plates, I have had the great fortune in acquiring other non related Globe Poster Photos as well as other music memorabilia.
Here is one such piece:

James Brown w/ Fred Wesley

year: circa 1971

size: 3 1/2 x 5 original color photo

Note:
This is unique photo and is not a known published image!!


If you have any questions, please feel free to email me.