⬅ Return to collection
Mid-century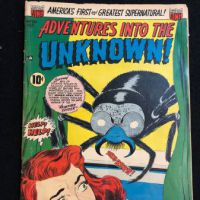 Original EC Comic Adventures Into The Unknown No. 50 Dec. 1953 Pre Code Horror Comic
**Same Estate**

EC Comic Collection!!

Entertaining Comics, more commonly known as EC Comics produced some of the best and demented Horror Comics. In the 1940's to and through the 1950's, the sights of ghouls, demons, skeletons and other worldly creatures terrified and drew kids to and through their pages.
The magazine had the best of the best and some then unknown artist draw, paint and scare kids. Later these pages would inspire, movies, bands, and other future artists and fellow comic artists.
In the mid to late 1950's the comic industry started to regulate and censor these comics for what they said " warping and and destroying the youth of America". They said the same thing about Rock and Roll, Punk Rock and Rap to and yup, we are still here on the earth!

All the EC will be from one client and each listing will be noted that they are from the same estate with "Same Estate" at the top of the listing.

Title: Adventures Into the Unknown No. 50
Year: December 1953

Cover:
Pencil: Ken Bald
Ink: Ken Bald

Condition: Fold on front cover and slight chipping at the top edge of cover. Colors and image are in very good condition. Binding is tight, no writing inside. Please see the images provided for details of the condition. I am happy to send more images upon request.

Size: Magazine size


If you have any questions or need additional information, please feel free to contact me.

Noted:
Overseas buyers please email me for shipping quote, please provide me with a shipping address and postal code.
Detail photos Click to enlarge