⬅ Return to collection
Mid-century
This item has been sold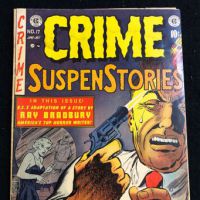 Original EC Comic Crime SuspenStories # 17 June 1953 Precode Horror and Crime Comic Johnny Craig Art
**Sames Estate as the other Pre Code Comics listed**

Title: Crime SuspenStories # 17
Date: June 1953
Pub by EC Comics
Cover by Johnny Craig

Condition: Cover has bold colors but some signs of water marks on the top and inside of the front cover the staples are starting to show signs of pulling. Cover is one but starting to weaken. Small amount of wrinkle on the top and bottom of the page. The Back cover has some wear and chipping at the top and bottom. The back cover also has some water staining and also a black mark on the right side. If you need more image please tell me what areas you need photographed.

" Al Williamson article by Albert B. Feldstein. "Touch and Go!", script by Ray Bradbury and Johnny Craig (adaptation), art by Johnny Craig; Acton had killed Arthur Huxley and now tried to remove any clue that he had been at Huxley's home and had committed the crime; But his fixation with eliminating evidence of his presence had its consequences; Adapted from the short story "Touch and Go" (later retitled "The Fruit at the bottom of the Bowl") by Ray Bradbury. "One for the Money," script by Albert B. Feldstein, art by Jack Kamen; A shameless gold-digger ends up paying for her sins in a roundabout way. "Big Blow!" text story by Albert B. Feldstein, art by Marie Severin. "Fired!", script by Albert B. Feldstein, pencils by Al Williamso, inks by Al Williamson and Frank Frazetta (as Fritz); As the owner of a cattle ranch, Patricia is getting lonely and longs for a man; That man is Roy Willis, a ranch hand who talks her into making him foreman. "Two for the Show!", script by Albert B. Feldstein, art by Bill Elder; A man murder his wife and packs her body into a trunk; He takes the trunk on a train and secretly exchanges it with another, identical trunk."

If you have any questions or need additional information, please feel free to contact me.

Noted:
Overseas buyers please email me for shipping quote, please provide me with a shipping address and postal code.
Detail photos Click to enlarge