⬅ Return to collection
Advertising : Posters : Mid-century
This item has been sold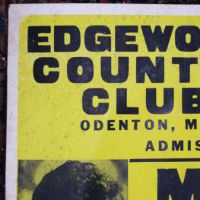 Original Globe Poster Edgewood Country Club Saturday July 11th Maxine Brown and Little Royal
Sturgis Antique is proud to have acquired a large collection of early 1960's Globe Poster printed posters from the Southern Maryland area, with a large focus on the the Carr's Beach and Sparrow's Beach Show venues. These venues were one of the main stopping points for many R&B, Soul and early rock bands touring the East Coast. These venues were instrumental for these national and regional bands.
This collection is from the early 1960's to 1965.
These were found in an estate in the Annapolis era and were collected off the poles in which these posters were in many cases, the only advertisements the bands could use, radio was not the force it is today. Globe Posters importance to these bands and countless other bands is so important. In some cases, these posters are the only testament to some of these bands and the fact that Globe Poster printed 20-50 posters for each of these concerts makes these posters important documents.
All of these posters have been hung. The posters are not mint, but make them no less important. I will photograph and describe as much damage as I see.
If you have any questions or need more information, please feel free to contact me.

Shipping Info:
These posters can not be rolled and must ship flat. Due to the large size of the package, postage will be a bit more than normal.

Poster: Edgewood Country Club Saturday July 11th Maxine Brown and Little Royal & His Swing Masters

Size:

Condition: bold colors, minor water stains on the sides left and right edges. soiling on top section, tear marks on top and bottom center and nail holes left and right side.
Detail photos Click to enlarge