⬅ Return to collection
Art : 1900-1940s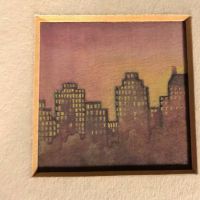 Original Miniature Watercolor Natalie Hays Hammond New York Skyline In The Evening 1930's Noir Style
Natalie Hays Hammond (1904-1985) was an American Painter, Water colorist and Fabric Designer. Her work started out in the 1920's as a Costume designer and by the 1930's developed a form of Appliqué —"ornamental needlework in which pieces or patch of fabric in different shapes and patterns are sewn or stuck onto a larger piece to form a picture or pattern." After 1957 she stopped painting and concentrated on needlework.
For me, her miniature watercolors are amazing, very controlled and precise, such a hard thing to do in that medium. This one especially, the New York skyline at night with the almost all the light glowing in the buildings. Such a Noir style and subject for the 1930's and what better place than New York for that subject. This amazing and small Miniature is what collectors of her art look for.
Medium: Watercolor
Subject: New York Skyline in the Evening
Year: circa 1930's
Size: 4 1/4 x 3 1/4 paper / 1 1/2 x 1 1/2 image
Condition: Very fine with small pinholes to the paper, from where the artist pinned the paper to keep it still. Hinged with brown hinge under mat. The name card with address is chipped on the bottom. Please see the images provided for more details.
If you have need more images, please email me. If you have any questions or need additional information, please feel free to contact me. Noted: Overseas buyers please email me for shipping quote, please provide me with a shipping address and postal code.
Detail photos Click to enlarge