⬅ Return to collection
Mid-century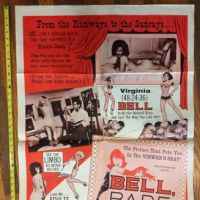 Original Movie Poster Bell, Bare and Beautiful 1 Sheet 1963 Sexplotation
Bell, Bare and Beuatiful Movie, original 1 sheet from 1963


Gordon Lewis' cult sex comedy, sexy Virginia Bell!
An Original Vintage Theatrical Folded One-Sheet Movie Poster (1sheet; measures 27" x 41" [69 x 104 cm])

A young millionaire is obsessed by a woman he keeps dreaming about but doesn't know. After an investigation, he discovers that she is a large-breasted stripper who spends a lot of time in a nudist camp. He decides to follow her there.
Director: Herschell Gordon Lewis (as Lewis H. Gordon)
Writer: Leroy C. Griffith
Stars: Virginia Bell, William Kerwin, Joy Hodges

"Film Description: Bell, Bare, and Beautiful, the 1963 Herschell Gordon Lewis sexploitation comedy ("From the runways to the sunrays... or... can a burlesk queen find true happiness in a nature camp?"; "The picture for the man who thinks he has seen everything!"; "Studded with stunning suntanned starlets"; "21 great chicks make 20 wonderful pix") starring Virginia Bell, William Kerwin, Joy Hodges, Sunny Dare, & David F. Friedman

Size: 27" x 40"
Condition: the poster has been folded and stored. no tears, pin holes in the corners.

If you have any questions or if you need additional photos, please feel free to contact me.

Detail photos Click to enlarge