⬅ Return to collection
Vintage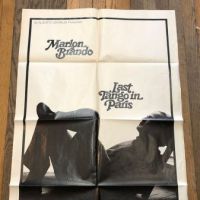 Original One Sheet Movie Poster Last Tango In Paris Marlon Brando Bernardo Bertolucci 1972 x Rated
Last Tango in Paris
Year: 1972
Considered an erotic drama film directed by Bernardo Bertolucci which portrays a recently widowed American who begins an anonymous sexual relationship with a young Parisian woman and stars Marlon Brando, Maria Schneider, and Jean-Pierre Léaud.
At the time the Censors cut and the film in the USA and still gave it an X rated mark.

Plot:
"Paul (Marlon Brando), a middle-aged American hotel owner mourning the suicide of his wife Rosa, meets a young, engaged Parisian woman named Jeanne (Maria Schneider) at an apartment that both are interested in renting. Paul takes the apartment after they begin an anonymous sexual relationship there. He insists that neither of them must share any personal information, even given names. The affair continues until one day, Jeanne arrives at the apartment and finds that Paul has packed up and left without warning.
Paul later meets Jeanne on the street and says he wants to renew the relationship. He tells her of the recent tragedy of his wife. As he tells his life story, they walk into a tango bar, where he continues telling her about himself. The loss of anonymity disillusions Jeanne about their relationship. She tells Paul she does not want to see him again. Paul, not wanting to let Jeanne go, chases her back to her apartment, where he tells her he loves her and wants to know her name.
Jeanne takes a gun from a drawer. She tells Paul her name and shoots him. Paul staggers out onto the balcony, mortally wounded, and collapses. As Paul dies, a dazed Jeanne mutters to herself that he was just a stranger who tried to rape her and she did not know who he was, as if in a rehearsal, preparing herself for questioning by the police."

Size: One Sheet 27 x 41 inches
Condition: Near fine but the poster has been folded, please see the images provided for a visual description.

If you have any questions or if you need additional images, please feel free to email me.
Note:
shipping cost is for US only, if you are an over seas buyers please email me your shipping address to get a shipping quote.
Detail photos Click to enlarge