⬅ Return to collection
[uncategorized]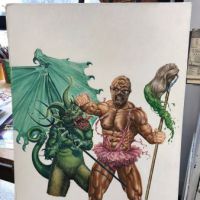 Original Painting for Troma Pictures Movie Toxic Avenger III 1989 Cult Film Original Art
Original Painting for Troma Pictures Movie Toxic Avenger III 1989 Cult Film Original Art with Artist's Photo for Reference

Sturgis Antiques is proud to be able to able to offer the original art of Troma Pictures, the Cult movie house that brought the world Toxic Avenger and other Camp and Low Brow Horror and Z Movies.

Troma Entertainment is an American independent film production and distribution company founded by Lloyd Kaufman and Michael Herz in 1974.
Tricia Zimic, the artist who created so many of covers and movie posters for Troma has decided to start to sell her collection of her original paintings that she painted for Troma's films. Her stories, her time involved, her props and visuals to create these paintings are as priceless as the paintings themselves.
Every painting has a memory when and how she created these fine detailed and colorful paintings.
Zimic painted with a fine bristle brush on artist board. I have taken details of each painting and included photos of props or working photos.
I have posted samples on my instagram but here on the website you will be able to multiple images and details.

Title: Toxic Avenger III
The Toxic Avenger III: The Last Temptation of Toxie

Size: approx. 35" x 25"

Condition: Near fine, not framed or mounted. These are from the artist collection and were used to create the poster and promo for the Film.

Movie Bio: After presumably defeating Apocalypse Inc., the Toxic Avenger has nothing to do. He tries to get a job but fails, as a normal job is no place for a hideously deformed creature of superhuman size and strength. Until one day, Toxie is told that his blind girlfriend Claire has a chance to see again, but it will cost a great deal of money. When the famous superhero gets the opportunity to work as a spokesman for Apocalypse Inc., he agrees so he can get money for Claire. As he was unaware of the evil nature of his employers, Apocalypse Inc. took over Tromaville and enslaved the populace. After Claire's surgery, she opens up Toxie's eyes and it is revealed that the Devil himself is the chairman of Apocalypse Inc. Things begin to make a change for the worse as the Toxic Avenger will be transformed back to his original form, the dorky Melvin Junko, and must face a showdown with the Devil. The Toxic Avenger defeats the Devil through the "Five Levels of Doom" trial ordeal, defeating Apocalypse Inc. for good.


If you have any questions or if you need more images please feel free to email me.
Detail photos Click to enlarge