⬅ Return to collection
Art : 1800s
This item has been sold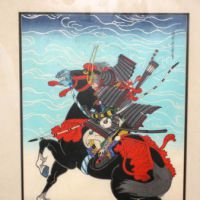 Original Sadanobu Japanese Woodblock Print of Warrior Kajiwara Kagesue
A near fine and nicely framed Japanese woodblock of the warrior Kajiwara Kagesue. This epic story takes place in the late 1100's and is the story two warriors trying to gain victory for his Shogun. Two top warriors set out to gain the advantage over the revolting rebels leading to Kajiwara Kagesue losing the race.

Signed - Sadanubu Hasegawa
Sealed - with artist's seal
Image size - 10 5/8" x 15 3/4"
Condition: very good with strong and bold colors and nicely framed. Back of the frame has story of the battle.

NOTE:
The photos are taken through the glass so there are some reflections in the glass, the print is in very clean and fine condtion.

Detail photos Click to enlarge