⬅ Return to collection
Military Memorabilia & Art : Mid-century
This item has been sold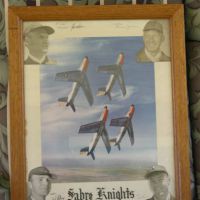 Original Signatures of the Sabre Knights Jets with Photos in Presentation Frame from General Twining
A remarkable piece of Aviation history, The Sabre Knights photos with signatures. The photo portraits of the pilots with pen signatures surrounding a color photo of the Sabre Knights performing one of their famous stunt flights.
This piece comes to Sturgis Antiques from a collector who bought a large amount of items from General Nathan Twining's estate. This piece comes from the general's estate but I do see anywhere if this was presented to the General, but the general was Chief of Staff of the United States Air Force during the time of the Sabre Knights. So this piece could have been presented to the general as a gift or presentation of some kind.
The frame measures approx. 18 1/2" wide x 22 1/2" high. The pictures are mounted on paper with original signatures next to each photograph. At the bottom of the paper, a hand drawn Gothic style lettering is "Sabre Knights". There is a small area of smudging to the lettering which looks to have been done when this piece was created.
The names of these famous stunt and aviation pilots are Lt. Col. Vince Gordon, Capt. Bruce Jones, Lt. Jim Low and Capt. Dick Hellwege.
If you have any questions or need additional photos, please feel free to email me. I also have a few original portraits of General Nathan Twining for sale. If you are interested, please contact me.

Detail photos Click to enlarge