⬅ Return to collection
Modern
This item has been sold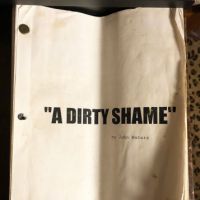 Orignal From Movie Set John Waters' A Dirty Shame Used with Notes 2003
From one of the cast/ crew of John Waters " A Dirty Shame" movie.
Pen marks and writing inside, director and notes for the shooting the film.
The script has been folded in half, most likely while on the set.
The pages are used, of course but intact.

The pages are held together by paper round head fasteners on the top and bottom.

Movie:
"Sylvia Stickles (Tracey Ullman) runs a convenience store with her husband (Chris Isaak) and mother-in-law (Suzanne Shepherd). One day, Sylvia is hit on the head and transforms from an uptight prude to a sex-crazed lunatic. As she goes on a rampage through town, Sylvia attracts the attention of Ray Ray (Johnny Knoxville), a sexual healer and tow truck driver in search of the world's greatest orgasm. Their sexual revolution, however, causes a class war in their tiny Baltimore community."

Size: approx. 8 1/2 x 11 inches pages
Condition: Used but in very good condition since it was used on the set of the movie. Please see the images provided or if you need more images, please email me.

If you have any questions or need additional information, please feel free to contact me.

Noted:
Overseas buyers please email me for shipping quote, please provide me with a shipping address and postal code.
Detail photos Click to enlarge