⬅ Return to collection
Historical Memorabilia : Posters : Mid-century
This item has been sold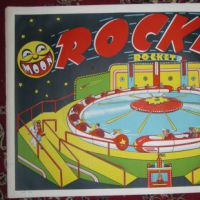 Orignial Lithograph Poster From Globe Poster of Moon Rocket Ride
Over the past 6 months I have been working with Globe poster, the historical Baltimore Poster Co., to sell and find buyers for the 85 + years of poster and artifacts. The Company has been in Baltimore but have moved several times. Since they have been a fully functional poster company they have keep almost all of their back stock of working posters as well as their ability to make posters using their working old stock.
In going through Globe we have found an amazing amount of treasures in fields of Carnival, R&B and Auto Racing. I will be adding pieces to the site as well as ebaying items.
If you are interested in multiple items please contact me.
Here we have a Poster from the Chicago Globe, which did stock images of Carnival and Circus posters. They poster would be shipped and inprinted by printers, like Globe Baltimore with the performers and time and dates. These are poster that were never used and are a rare chance to get a piece of Baltimore as well as Carnival and Circus Memorabilia.
Here is a a great full color graphic lithograph of the Moon Rocket Ride. The size is approx. 41" x 28". The bottom is printed Globe Poster Chicago Ill. Design 105.
I will have multiple images available and all in about the same condition. I will not offer any poster that is damaged in the image area but all have some chipped edges as well as edge tears. Please call to talk to me about the condition of the one that I will send you before purchase.
If you have any questions or need additional images please contact me.

Detail photos Click to enlarge