⬅ Return to collection
2nd Edition : Out Of Print : 1800s
This item has been sold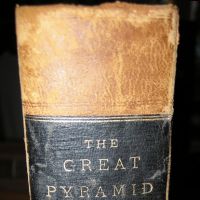 Our inheritance in the Great Pyramid by Piazzi Smyth 1874 17 Plates Leather Bound Ed.
Our inheritance in the Great Pyramid by Piazzi Smyth.
Pub by W. Isbister & co. London 1874
New and Enlarged Edition with 17 Explanatory Plates

Piazzi Smyth (astronomer Royal for Scotland)

Size: 5 3/4 x 8 x 2 1/8 thick

Condition: Fine with some spoiling to edges. Leather is scuffed on front and back, spine edge is slightly worn. Binding is intact but is weakened.
Slight bend to end boards.


Charles Piazzi Smyth (3 January 1819 – 21 February 1900), was Astronomer Royal for Scotland from 1846 to 1888, well known for many innovations in astronomy and his pyramidological and metrological studies of the Great Pyramid of Giza.
Appointed head of Astromony in 1846 with numerous inventions, such as the Time Bell used for Ships coming into the Edinburgh Port of Leith.
The book Our inheritance in the great pyramid was first published in 1864.

If you have any questions or need additional images, please feel free to contact me.
Detail photos Click to enlarge