⬅ Return to collection
1st Edition : Out Of Print : Vintage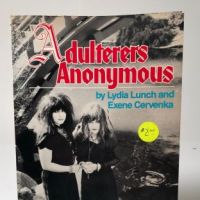 Out Of Print 1st Edition Adulterers Anonymous by Lydia Lunch and Exene Cervenka Grove Press Paperback 1982
1st Edition Adulterers Anonymous by Lydia Lunch and Exene Cervenka Grove Press Paperback
Adulterers Anonymous by Lydia Lunch and Exene Cervenka
Published by Grove Press
Year: 1982
Stated first edition
The book is stamped Surplus from Library of Congress Duplicate
The alternative world would not have been the same without either one of these women. Lydia Lunch, the in your face and demanding you to listen to here side, gave anger and venom to women in one of the hardest cities in the world, New York. Lunch was around New York during it's second installment of culture that started in the 60's with the Velvet Underground. Her fist band Teenage Jesus and The Jerks would give amplified melody to her voice. Her voice has never been silenced and is still going and still needed.
Exene Cervenka, the co singer to the LA band, X. Her voice along with John Doe was your lighthouse and beacon in the wastelands of Los Angeles in the late 1970's. The lyrics and phrasing was a shock to the other side of the glamour of LA. Lyrically Exene's words were a whirlwind of mystical and symbolic phrases of the evils of the world but with she always gave a sense of hope.
So in 1982 the two artist combined to give you a book of poetry. The book is separated by fonts to show what each writer was showing you. Long out of print, this book was the book to combined the two top figures in the underground music scene.
Condition: The book's binding is fine with slight signs of use, The pages have started to turn a bit at the edges and on the inside of the covers, typical of paperback books. A stamp from Library of Congress stating it was a Duplicate. A yellow price sticker on the front. The back has light marks on the back top, a marker of some sorts. The back lower left corner is bent and the cover has a slight curl. Please see the images for more details.
If you have any questions or if you need more images please feel free to contact me.
NOTE:
The price listed is for US. If you are an overseas buyer please email me your shipping address before purchase to get a shipping quote.
Detail photos Click to enlarge