⬅ Return to collection
Historical Memorabilia : 1800s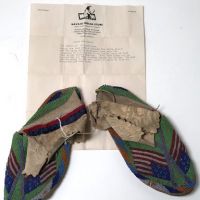 Pair of late 19th- early 20th c Native American Plains Tribe Moccasins with Beaded American Flag Sioux and or Comanche
Pair of late 19th- early 20th c Indian Moccasins with American Flag beaded. Hard soled bottoms with fine bead work. Majority of field is green glass beads with two flags on each Moccasin.
These impressive pieces are amazing with beautiful beadwork, the flags and the green field jump out! The Plain's tribes had a distinct style to their moccasins, the tongue is one with the elongated. Sioux tribes and possibly the Comanche tribes both had similar bead work in their moccasins .
The main interest of these are of course the American Flag, strange to have the American flag which has brought so much strife to the Plain's Tribes but this has lead me to believe these could very possibly be from a Chicago or Columbian Exposition. Both had Native American tribes represented and showcased. These could very well be from one of these American Expositions, as souvenirs or used by performers in the Wild West Shows at Worlds Fair.
The story is now in the hands of these historical artifacts but the fact these have lasted give rise to more questions but also show more to the forgotten history of the Native American tribes.
Attached to the photos is a photo of the letter with provenance when the moccasins were bought from Navajo Indian Store in Tucson Arizona. The letter is a typed and undated letter with possible history that they were from a Sioux Indian woman.
Condition: The Right moccasin has a few very small bead loss on the right side and the back right has loose and a few minor bead loss. Left moccasin has some bead loss to flag on right side. These have been used for sure, wear on the bottom and inside. These have been stored for many years in a drawer and the shape is irregular and will need to be filled with stuffing to regain their shape.
If you have any questions or need additional images, please feel free to contact me.
If you have any questions or if you need additional images, please feel free to email me.

Note:
shipping cost is for US only, if you are an over seas buyers please email me your shipping address to get a shipping quote.
Detail photos Click to enlarge