⬅ Return to collection
Mid Century Design : Vintage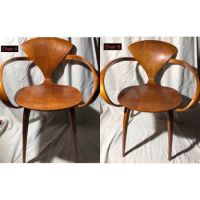 Pair of Vintage Norman Cherner Arm Chairs Circa 1960's By Plycraft
Pair of Norman Cherner Pretzel Dining Chairs Arm Chairs Made by Plycraft Circa 1960s
A Pair of Plycraft Norman Cherner Arm Chairs also called the Pretzel Chair
Norman Cherner U.S.A. (1920–1987)
"A pioneer both in molded plywood and prefab housing, Norman Cherner studied and taught at the Columbia University Fine Arts Department and was an instructor at the Museum of Modern Art in New York from 1947 to 1949. Here he also explored the Bauhaus movement, embarking on a lifetime exploration of multidisciplinary design, from furniture, shelving, glassware, lighting and even toys to his pioneering work in low-cost prefabricated housing. Cherner is best known for the molded plywood seating line he created for Plycraft, a manufacturing company in Lawrence, Massachusetts. After telling Cherner that his design for what is now known as the Cherner Chair (1958) had been scrapped, Plycraft's owner continued to produce it, claiming himself as the designer. Soon after, the chair's popularity was heightened when it appeared in Norman Rockwell's 1961 painting "The Artist at Work" on the cover of the Saturday Evening Post."
Sold as a pair, these chairs have an excellent finish to both and both were refinished at the same time approx. 15-20 years ago.
Condition Report:
both chairs have been refinished and repaired at the same time, approx 15-20 years ago. Both chairs have even age wear on the legs and feet. I have included many photos of each chair showing any and all damage. The chairs have been used and have been functioning great.
One chair, Chair A, has been repaired at the bottom of the next, pleases see images.
Chair B is missing a screw on the back, please see the images of this detail.
I will label the first chair with A and the second chair will start with A
Any problems or confusion please feel free to contact me.
Size: 31.5" x 26.5" x 22"
Condition: Very fine with light marks on the legs from use. The finish on the chair seat and back and arms is in great condition. Please see the images for this detail. One chair has slight separation on the neck of the back, please see the images of this detail. One chair has replaced screw on the back of the arm support.
If you have any questions or need additional images please feel free to contact me.
NOTE:
Due to the size of this item special delivery will be needed, Pick up is available at 21211
Delivery can be provided in the US, please email me with your delivery address before purchase to get a delivery quote.
Overseas shipping can be provided but the item will need to be crated. Please contact me for an over seas quote.
Detail photos Click to enlarge