⬅ Return to collection
Ambrotype
This item has been sold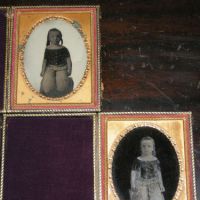 Pair of Relievo Ambrotypes of a Young Girl Rare Contact Printed Set
"The'Relievo' portraits were introduced in England in 1857 by Thomas C. Lawrence, a Greenwich photographer.
The 'Relievo' ambrotype was based on the relief effect that was achieved by the layering of the image plate over another image or background. The structure of a relievo ambrotype could have been single, double or triple depending on the style." (sourced from The History and Conservation of Glass Supported Photographs by Katharine Whitman 2007)

A pair, left and right mirror image of a Young Girl done in a Relievo style. Looking closely you can see the image is a contact print of the same girl, notice the hair and hand position.

Both Plates are Quarter plate size case photos, 3.25 x 4.25 inches (8 x 11 cm)
Condition: varying degrees, the one case image with whitish background has some spots. The brass mat has some oxidation to edges, please see the photo for details. The back of the case has damage.
The case image with black background has crazing the to image. No Glass over Mat.

If you have any questions or need additional images, please feel free to contact me.

Detail photos Click to enlarge