⬅ Return to collection
[uncategorized]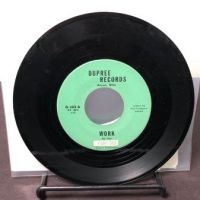 Panicks Work with B Side Treat Me Right on Dupree Records 1966 Akron Ohio Garage Band
Panicks Work b/w Treat Me Right on Dupree Records D 102
Ohio 1960's garage band who claimed to get their name in a "Panic" after a friend died. The band only seemed to have enough for two singles, Work, this single released first in 1966 and their second in 1967 and broke up in 1968!
Coming from Akron Ohio, the A side is The b side is a great jangle psych song and has been on numerous comps.
Their first single all were printed with Panic but the band stickered over every single adding a "K" because they heard too late that there was an East Coast band called Panic. Can you guess how many bands were named Panic? Even today, bands use names from previous and sometimes current and they have the internet!!!
I enjoy this band's take and honest approach to other bands, way to go!!


Listen to the Tracks
SIDE 1

SIDE 2


Condition: Vinyl is high Vg+, visual the record is NM-, has slight and very low crackle below the music, no tracking issues or issues. A great and dynamic sounding record with still strong and vibrant tones. Label is almost perfect, rare condition on this record. Both sides play equal. Sleeve is generic white.
If you have any question or need additional images, please feel free to contact me.
NOTE:
International orders. Shipping will be $18. Please contact me before purchase if you are an International buyer. I will need to adjust the shipping price to reflect a correct shipping cost to you.
Detail photos Click to enlarge