⬅ Return to collection
[uncategorized]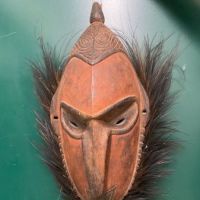 Papua New Guinea Sepik or Ramu Mask Circa 1960's Ceremonial Dance
Papua New Guinea Sepik or Ramu Mask Circa 1960's Ceremonial Dance
We all know the Papua New Guinea headhunter stories and I even know some collectors who have rare shrunken heads from the region. Not only are these a prize for some collectors but the other items, masks, fetishes and other ceremonial and war weapons are collectable. This piece is from circa 1960's and was bought not plundered like many items of ethnographic items. By the mid to last quarter of the 20th c., the region was fully colonized and like many areas was a travel destination and billed as the "wild" and "exotic". So with the invasion of tourism, the tribes turned to selling items, much like the Native Americans did during the early 20th c. at train depots and train stops out west.
This is not a plundered or stolen item.
Like the previous entry, the Cassowary Bone Dagger, this mask is from the same collection and acquired around the same time.

Size: over 14" tall ( I will get exact measurements)
Condition: excellent with some some light storage marks and some feathers are missing but not enough to distract from the the look of the mask. If you have any questions or need more images, please feel free to contact me.
If you have any questions or if you need more images please feel free to contact me.
NOTE:
The price listed is for US. If you are an overseas buyer please email me your shipping address before purchase to get a shipping quote.
Detail photos Click to enlarge